Communications
Press Releases
|
07 October 2021
Défi Sollio a huge success, with $53,300 raised and more than 40,000 km travelled for the From Us to You initiative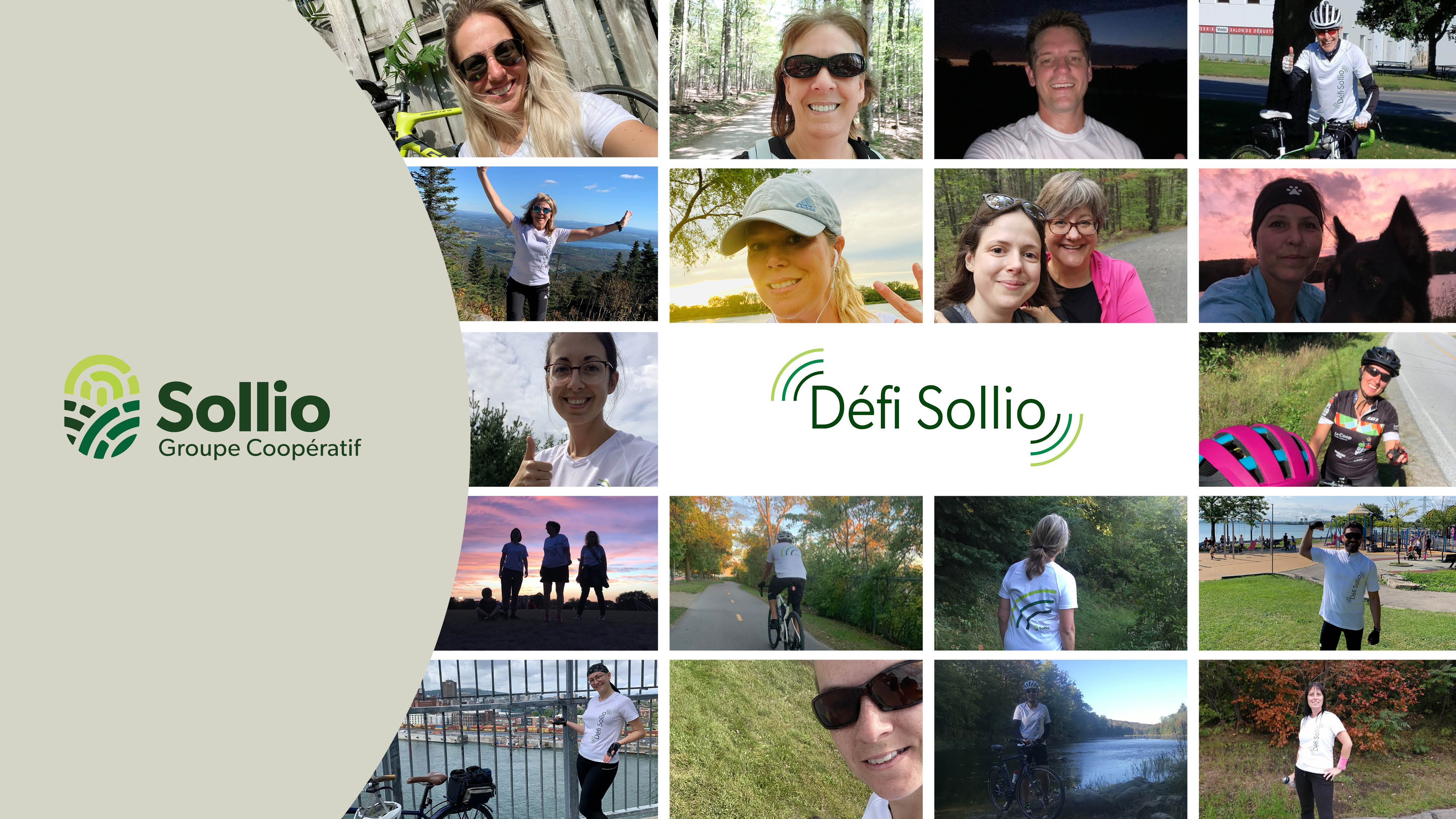 Montreal, Thursday, October 7, 2021— With September behind us, Sollio Cooperative Group, its network of cooperatives and its divisions are proud to announce that the Défi Sollio was a resounding success, raising $53,300 for the Quebec food bank network, as part of the From Us to You initiative. Logging more than 40,000 km by biking, running, walking and even rowing, the 226 participants who agreed to take up the Défi Sollio will contribute to providing more than 13,000 meals to people in need. 
"I'm extremely pleased to see the enthusiasm that the Défi Sollio has generated among the employees of our large, extensive network. People from Sollio Agriculture, Groupe BMR, Olymel and many regional cooperatives, as well as the parent company, took up the Défi Sollio to help those experiencing hardship,"  said Pascal Houle, CEO of Sollio Cooperative Group. "We can be proud of ourselves because, together, we have done the equivalent of circling around the Earth for a good cause."  
The aim of the Défi Sollio, which replaces the annual Défi-Vélo, was to get employees across the network moving by engaging in their favourite athletic activities, while at the same time raising funds for a good cause: Sollio Cooperative Group's From Us to You initiative. 
To find out more about From Us to You, click here. 
About Sollio Cooperative Group  
Sollio Cooperative Group is Canada's largest agricultural cooperative with Quebec roots. Since 1922, our daily actions of cultivating, growing, producing, processing and building the economy of tomorrow have been part of the DNA of our 16,150 employees and the 7,000 workers in our affiliated cooperatives. With more than 123,000 members, agricultural producers and consumers grouped in 48 traditional agricultural and consumer cooperatives, Sollio Cooperative Group helps feed people by bringing prosperity to farming families and ensuring a sustainable future for everyone. Thanks to its three divisions—Sollio Agriculture, Olymel L.P. and BMR Group Inc.—Sollio Cooperative Group proudly drives economic and social development in the regions, generating sales of $8.2 billion (and over $11 billion with affiliated cooperatives). Sollio Cooperative Group is one of Canada's best managed companies.