Communications
Sollio Next Generation Award 2022–2023
Sollio Cooperative Group announces the winners!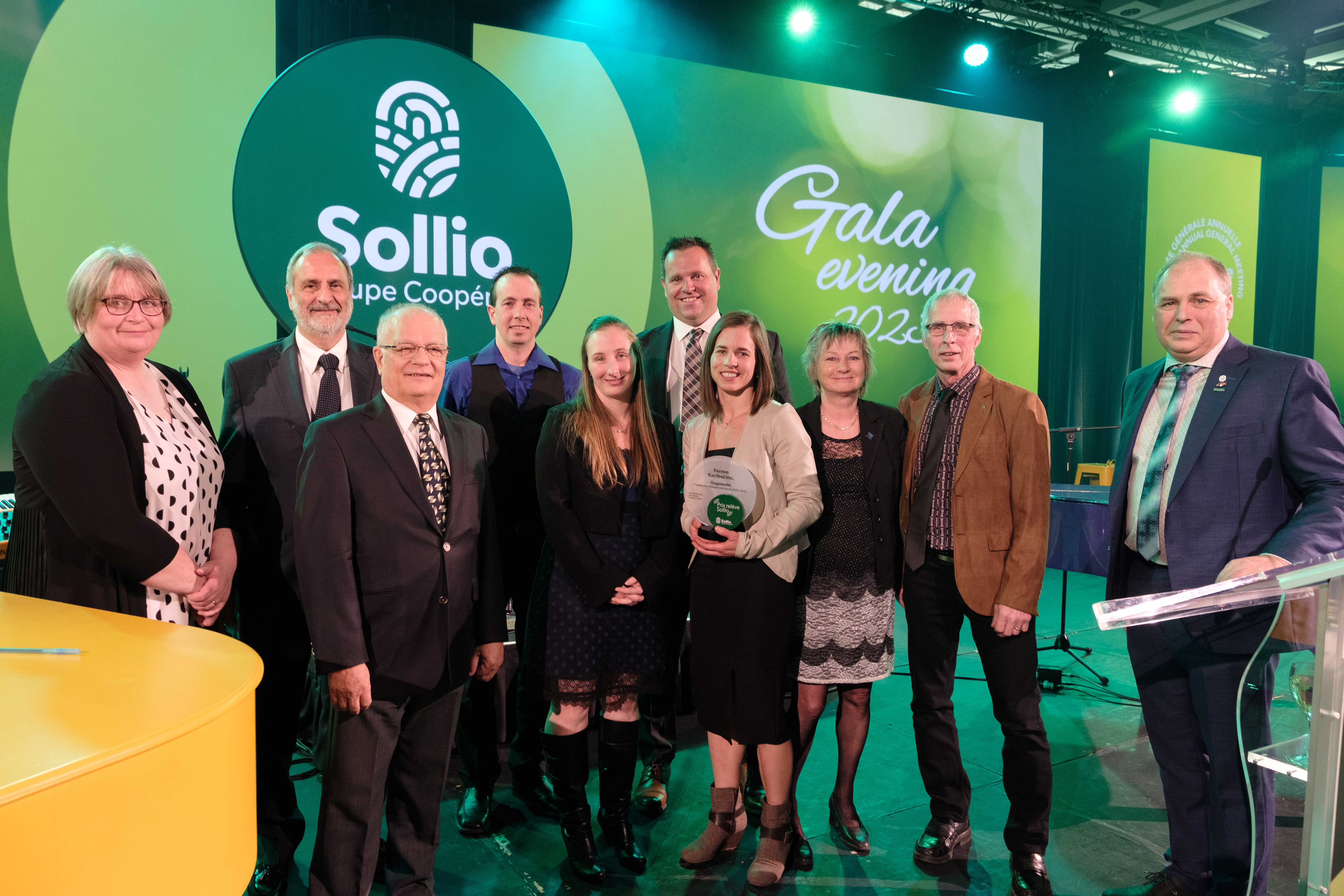 Quebec City, March 1st, 2023 – Sollio Cooperative Group announced the winners of the Sollio Next Generation Award at a gala evening following its 101st Annual General Meeting, which took place on February 23.
Winning and finalists farms
The winning and finalists farms were featured in articles and videos for Coopérateur magazine. The Sollio Next Generation Award is the only award of its kind for Canadian agricultural businesses. This year, the competition included a category for clients of Sollio Agriculture's partner network, The Agromart Group.
Profile and category

Winners

Finalists

Sollio Member – Farm Succession

Sollio Member –
New Farm Enterprise

Client of Agromart Group – Farm Succession

Chadwick Farms Inc.
Video
Article

Lankhuijzen Farms Ltd.
Video
Article
About the Sollio Next Generation Award
For over 20 years, the Sollio Next Generation Award has showcased farming families in our network that have successfully started an agricultural business or taken over an existing one while ensuring sustainability and equity for all stakeholders. As a Canada-wide cooperative, Sollio Cooperative Group wanted to offer agricultural entrepreneurs inspiring models of Canadian new farm enterprises and farm transfers. To learn more, visit sollio.coop/en/SollioNextGenAward.
About Sollio Cooperative Group
Sollio Cooperative Group is Canada's largest agricultural cooperative with Quebec roots. Since 1922, our day-to-day work of cultivating, growing, producing, processing and building tomorrow's economy has been part of the DNA of our 15,850 employees and the 7,000 workers in our affiliated cooperatives. With more than 123,000 members, producers and consumers grouped in 48 traditional agricultural and consumer cooperatives, Sollio Cooperative Group helps feed people by bringing prosperity to farming families and ensuring a sustainable future for everyone. Thanks to its three divisions—Sollio Agriculture, Olymel L.P. and BMR Group Inc.—Sollio Cooperative Group proudly drives economic and social development in the regions, generating sales of $8.9 billion (over $11.6 billion if we include our affiliated cooperatives). Sollio Cooperative Group is considered one of Canada's best managed companies. To learn more, visit sollio.coop/en.
About The Agromart Group
The Agromart Group is comprised of 22 independent agricultural retail business partners within Eastern Canada. Each Agromart is a 50:50 joint venture between Sollio Agriculture and the local business owners/operators. The Agromart Group provides crop nutrients, crop protection, seed, custom application and associated services to agricultural producers. 
-30- 
Source:     
Sollio Cooperative Group
Media enquiries:
Anouk Petit 
Director of Communications
514-803-5158
anouk.petit@sollio.coop