News
La Shop opens its doors in Montreal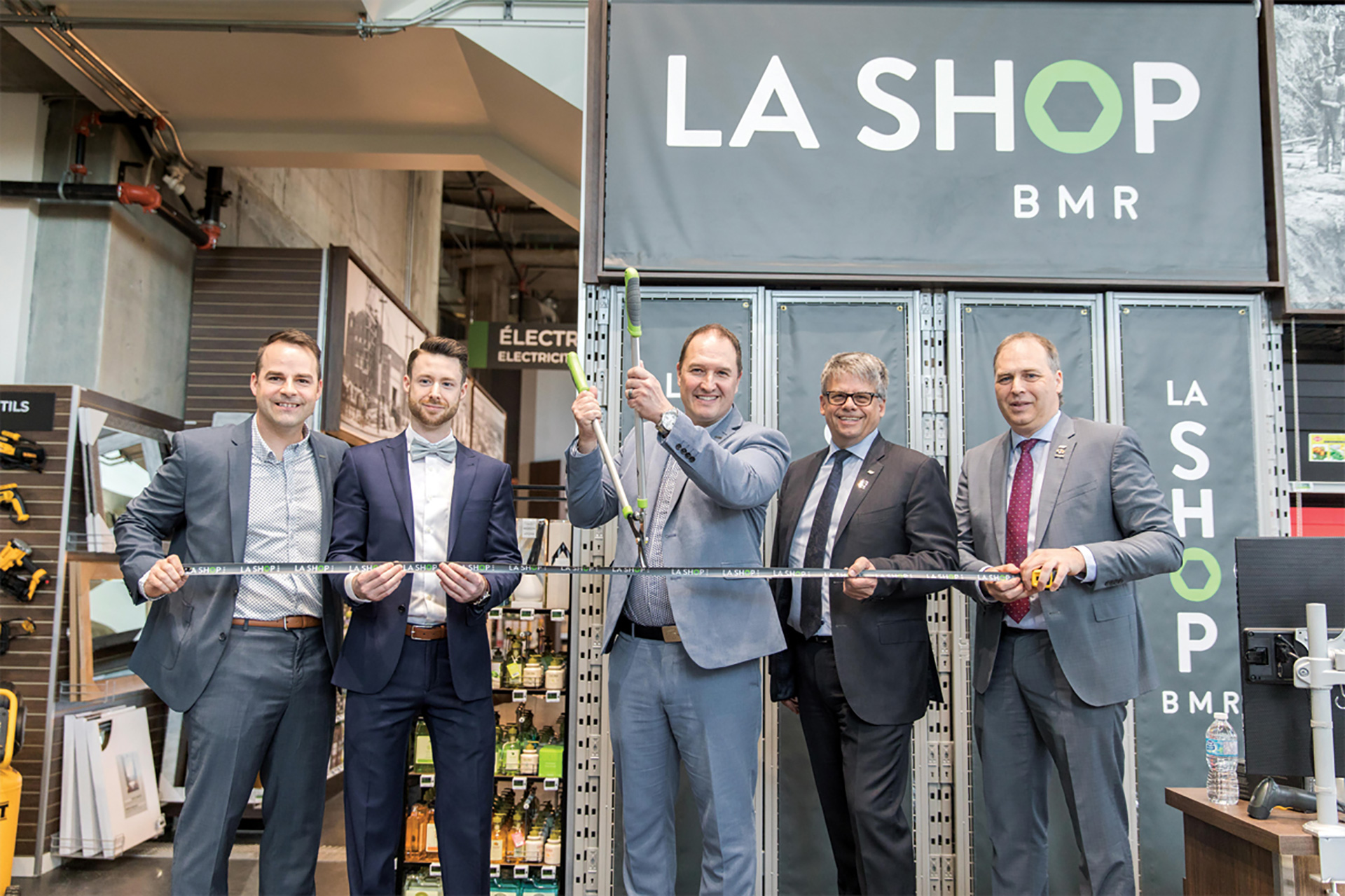 Boucherville, April 23, 2018 – Groupe BMR is unveiling today its brand-new urban hardware store concept, La Shop BMR™, with a pilot location opening on April 24 at 70 Peel St. (between Wellington and Smith) in Montreal's Griffintown.
La Shop, a concept meticulously designed to meet local consumers' needs, supplements the traditional hardware selection with products and services adapted to the urban market. At the new Griffintown location, for example, customers will be able to buy small home appliances and kitchen accessories, premium pet food, bicycle accessories, and storage solution products. This new store type will also offer home handyman services to interested customers.
In this environment, where industrial and modern styles meet, products from Canadian manufacturers will predominate. Firmly future-oriented, these urban hardware stores propose an omnichannel experience for attracting both the old and the new generations of consumers. "We are beyond excited about this new concept as it meets the needs of millennials, a generation that is both tech savvy and keen on supporting local retail products and businesses. La Shop allows them to shop locally and affordably with tailor-made service!" explains Pascal Houle, CEO of Groupe BMR.
"This pilot store in Griffintown will give us the chance to implement a variety of technologies over the next few weeks to optimize the customer experience in-store and on all La Shop digital platforms. We will carry out different tests and collect customers' comments, which will allow us to put the finishing touches on our omnichannel experience this fall," says Martin Lecomte, Groupe BMR's Vice-President of Retail.
A hardware store that shares
Another La Shop feature that will undoubtedly entice consumers is its economic model of sharing, which consists in renting out tools free of charge to customers undertaking renovations with La Shop products.
A testament to La Shop's desire to offer quality products at unmatched prices, the La Shop selection is eligible for the "Best price guaranteed" program.
For more information on our new hardware store visit lashop.com
ABOUT BMR GROUP
BMR Group is a subsidiary of La Coop fédérée that includes 320 home renovation centres and hardware stores in Quebec, Ontario, and the Maritime provinces. BMR Group inc. and its members make an estimated $1.2 billion in retail sales annually and employ nearly 8,000 people in bannered stores. Named Company of the Year at the 2017 Les Mercuriades awards, BMR Group inc. is the leader in Quebec's renovation industry, operating under the banners BMR, La Shop, Unimat, Potvin & Bouchard, and Agrizone.
CONTACT
Stéphanie Couturier
Vice-President of Communications
Groupe BMR
514-217-8503
scouturier@bmr.co