News
Press Releases
|
20 April 2018
Mercuriades 2018 : La Coop fédérée wins a Mercure Award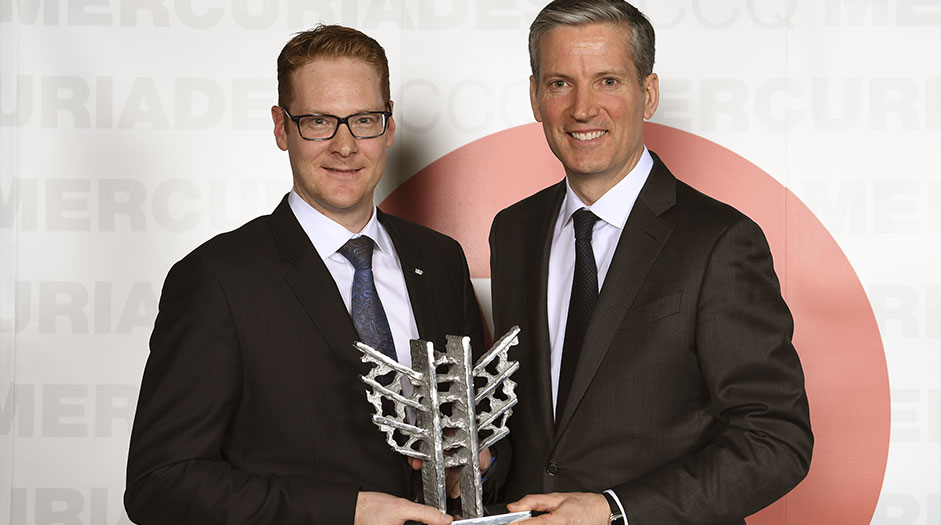 Montréal, April 20th, 2018 – In the presence of 1,000 invited guests last evening, the Agri-business Division of La Coop fédérée accepted the Mercure award for development of a web or mobile technology, category large enterprise, on the occasion of the 38th edition of the prestigious Mercuriades competition. The Agri-business Division is extremely proud to have received this prize for its AgConnexion platform, which regroups dedicated farm management tools for the use of agricultural producers.
"Serving agricultural cooperatives in Québec since 1922, La Coop fédérée has always innovated to better support agricultural families. It is in this context that the Agri-business Division has undertaken a digital shift and implemented the AgConnexion platform to significantly increase the efficiency and profitability of producers and retailers," explained Sébastien Léveillée, executive vice president agri-business at La Coop fédérée.
This platform has indeed produced excellent results, including:
an 80% reduction in time spent re-engaging clients;

a better access to various documents and farm data for producers;

an increase in profitability and efficiency for producers, thanks to advanced technologies and data analytics (up to 10 % more profitability in certain segments).
"These exceptional results were made possible thanks to a multidisciplinary team, an agile approach, the choice of open and modern technologies, and the constant and regular involvement of users. The integration of precision agriculture, big data and Internet-of-things put us on the path to combine profitability and responsible agriculture" stated Saad Chafki, vice president of agri-business technologies and projects.
The Mercure awards gala was held at the Palais des congrès de Montréal. A total of 76 businesses and businesswomen were finalists. Last year, the BMR Group, a subsidiary of La Coop fédérée, garnered the highest honours, winning the coveted Large Business of the Year award, as well as the Mercure in the Productivity category. Organized by the Federation of Chambers of Commerce of Québec since 1981, the Mercuriades competition recognizes the exceptional achievements, visionary spirit, and expertise of local businesses. It also highlights winners and finalists who are inspiring models of success and innovation.
About the Agri-business Division of La Coop fédérée
At the heart of La Coop fédérée's mission and ambition, the Agri-business Division leverages its resources' expertise and its retailers' proximity to become the partner of choice for tomorrow's producers across Canada. It benefits from the synergy amongst three key sectors: Livestock production, Crop production, and Grain marketing. It offers producers a recognized expertise at the service of producers in the poultry, pork, dairy, beef and horse sectors and specialized productions, as well as feed processing facilities that maintain to the highest quality standards and to constant innovation. It's also the largest supplier of seeds, crop protection and fertilizers in Québec and Eastern Ontario and the leader in grain marketing in Québec, with over 2 million metric tonnes commercialized annually. With a presence in most Canadian provinces, it employs close to 850 employees and reported 1.934 billion $ in sales in 2017.
-30-
Source :
Ben Marc Diendéré
Senior vice president, Communications, public affairs, and branding
La Coop fédérée
@Marc_Ben
Media contact person:
Virginie Barbeau, Senior advisor, communications
Agri-business division, La Coop fédérée
514 384-6450 ext. 3332 | virginie.barbeau@lacoop.coop