Communications
Press Releases
|
25 February 2022
Board composition and Executive Committee elections
Sollio Cooperative Group's 100th Annual General Meeting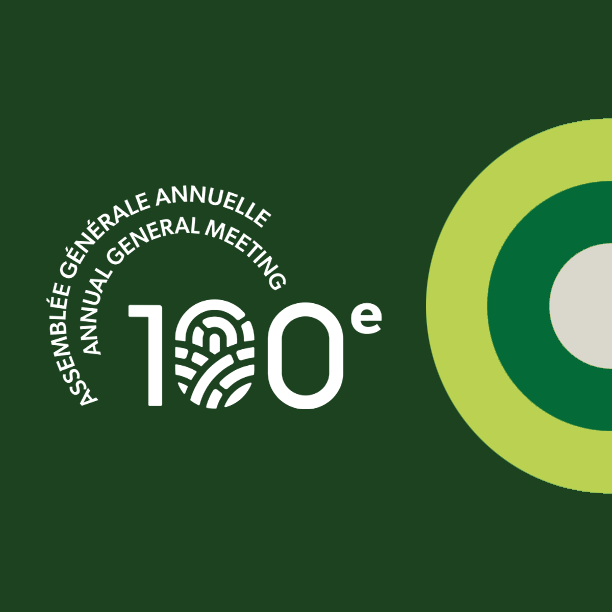 Granby, February 25, 2022 – As part of its 100th Annual General Meeting, which was held virtually yesterday and attended by more than 224 delegates, Sollio Cooperative Group held its meeting of the Board of Directors. The meeting provided an opportunity to proceed with the election of Executive Committee members, acknowledge the commitment and contribution of two outgoing members and welcome three new directors to the Board.
The composition of the Executive Committee is as follows:
President: Ghislain Gervais
First Vice-President Muriel Dubois
Second Vice-President: Jean-Philippe Côté
Seat number 1: Richard Ferland
Seat number 2: David Mercier
Seat number 3:  Marc-André Roy

The Board of Directors has agreed to add a new seat to the Executive Committee, for a temporary period of one year, in order to maximize the achievement of the organization's short-term objectives.
Welcome to new directors
Sollio Cooperative Group welcomes three new members to its Board of Directors. 
Denis Lévesque, a member of the Board at Avantis Coopérative, will represent sector 1. A graduate of the ITAQ de La Pocatière in livestock production, Mr. Lévesque operates Ferme Lémidra Inc., a 115-head dairy farm, with his spouse and son. He has 28 years of experience as a member of the board of an agricultural cooperative. 
The next new member is Guy Labrecque, a member of the board at Agiska Coopérative, who will represent sector 3. He has co-owned Ferme Labrise Inc., a dairy farm with a quota of 100 kilos per day, since 1993. He has also been operating Ferme Refrance Inc. with his spouse since 2007. They grow field crops of hay, wheat, soy and seeds on 600 acres of land. Mr. Labrecque holds a GEEA from the ITAQ de Saint-Hyacinthe and has 16 years of experience as a member of the board of an agricultural cooperative. 
We also have a new female member of the Board this year. Lucie Boies, a BMR desler, operates two stores in the Côte-de-Beaupré region. She holds a bachelor's degree in industrial relations, a certificate in business administration from Université Laval and a certificate in governance from the Collège des administrateurs de sociétés at Université Laval. She has been on various advisory committees at BMR Group for nearly twenty years.
"I would like to congratulate and welcome our three new directors, who were elected by our members. I want to thank them for participating in our democratic process and for their interest in ensuring the good governance of our organization.  I would also like to thank my colleagues for their renewed faith in me as President of Sollio Cooperative Group," said Mr. Gervais.
Outstanding dedication 

"I would also like to express my gratitude and acknowledge the work and commitment of Mathieu Couture and Réjean Vermette, who were dedicated and professional members. In addition to being a member of Sollio's Board of Directors, Réjean Vermette has also been President of the Cooperative Pork Network since 2012. Mathieu Couture was a member of Sollio's Board for over 10 years and has been a member of the Executive Committee since 2016. Being both an agricultural producer and sitting on the boards of their local cooperative and our organization is demanding. But this commitment is key to helping us fulfill our mission. I thank them for their contribution," said President Ghislain Gervais.
The composition of the Board of Directors for 2022-2023 is as follows:
Sector 1: Richard Ferland, Denis Lévesque, Adrien Pitre and Patrick Soucy
Sector 2: Muriel Dubois, Jean-Philippe Côté and Marc-André Roy 
Sector 3: Jean Bissonnette, Ghislain Gervais and Guy Labrecque
Sector 4: Normand Lapointe, David Mercier and Cathy Fraser
Sector 5: Lucie Boies
Sector 6: Sophie Gendron
External director: François R. Roy
Sollio Cooperative Group's 2021 Annual Report and Corporate Responsibility Report are available on the organization's website. These reports include Sollio Cooperative Group's MD&A, consolidated financial statements, the results of each of its divisions, as well as the overall results and corporate responsibility action plan.
About Sollio Cooperative Group 

Sollio Cooperative Group is Canada's largest agricultural cooperative with Quebec roots. Since 1922, our day-to-day work of cultivating, growing, producing, processing and building tomorrow's economy has been part of the DNA of our 15,850 employees and the 7,000 workers in our affiliated cooperatives. With more than 123,000 members, producers and consumers grouped in 48 traditional agricultural and consumer cooperatives, Sollio Cooperative Group helps feed people by bringing prosperity to farming families and ensuring a sustainable future for everyone. Thanks to its three divisions—Sollio Agriculture, Olymel L.P. and BMR Group Inc.—Sollio Cooperative Group proudly drives economic and social development in the regions, generating sales of $8.3 billion (over $11 billion if we include our affiliated cooperatives). Sollio Cooperative Group is considered one of Canada's best-managed companies. To learn more, visit sollio.coop.
    
- 30 -
Source: 
Sollio Cooperative Group
For more information: 
 
Stéphanie Couturier, Senior Vice-President, Communications
514-217-8503 | stephanie.couturier@sollio.coop